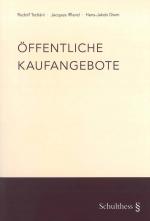 Öffentliche Kaufangebote (Public Tender Offers)
The law defining public takeovers was introduced to Switzerland in 1998, and has since then evolved into a specialized field of law. There have been more than one hundred cases and decisions adopted by the competent authorities. Until now there has been no monographic treatment of this important area of the law. The authors, who frequently deal with public takeovers, wanted to fill this gap. Their book is a comprehensive illustration of the legal practice regarding public takeovers from the perspective of the practitioner. The first part covers the scope of the law, compulsory offers, voluntary offers and the period prior to bidding. The second part describes the documents related to the bid, in particular the prospectus and the report of the board of the target company. The third part elaborates on the rules to be considered during the bidding, such as the best price rule and the rules regarding competing offers.
2nd edition, 2010, 441 pages, soft cover, CHF 92, ISBN 978-3-7255-5961-9; Schulthess Verlag, Zurich/Basel/Geneva. In German.